Making a Simple Soap Slicer
I have made a simple soap cutter using a block of pinewood and some fine fishing trace wire. The wire was coated with a thin layer of plastic but I simply burnt that off. It works just like a cheese cutter. Guitar wire should work the same. Simple and does the trick nicely.
A good tip is to cut the soap while its still fresh, usually the first few days. It gets too hard if left longer.
You can see in the photos that I have cut a groove into the base and on the top of the block of wood, This allows the wire to pass through the soap all the way in one cut when pushing it down.
I have a groove cut into the bottom too. It acts to guide the wire into the correct position for cutting.
The wood could have been a few inches longer to make it easier to use. You could also nail a small length of wood on the back edge of the piece of wood to keep the tube of soap from skewing when cutting with the wire.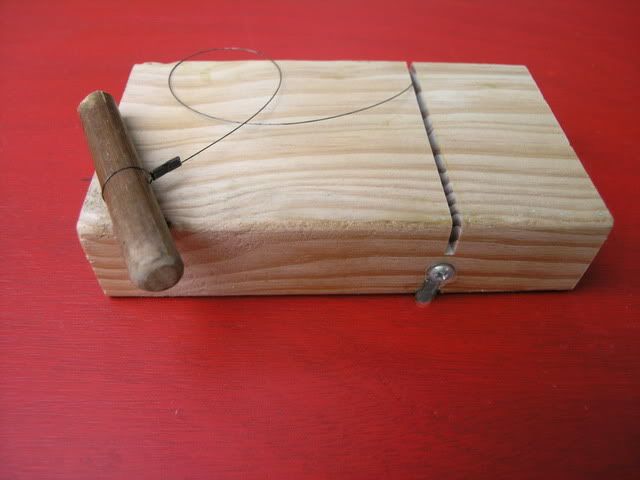 The copyright of the images displayed within this website pages are owned by Terry Nisbet.
You may not, download, manipulate, print, reproduce or share any of these digital images, in part of or in whole, unless authorized by written license issued by Terry Nisbet.