I read on the internet how to bend PVC pipe using a heat gun and I thought you should be able to use the same principle to form an oval shape from a round downpipe. The only PVC pipe I had on hand was 50mm (2 inches) but there is no reason the same procedure can't be used on larger PVC pipe. In fact I found this length of PVC under our house about 2 years after we moved in. There is a date stamp on the PVC pipe ... 1974 :o So older PVC pipe works well too! :-)
I have successfully used the oven to form an oval mould using round PVC pipe but I had some concerns over fumes produced by the heating of the PVC in a confined space.
I cut a section of PVC pipe about 300mm ( 12 inches).
Knowing I would be using heat I decided to use something that would withstand the high temperature of the heat gun. I used a ceramic kiln shelf but you could use bricks, a block of thick wood a slab of cement or even some ceramic tiles spread on an even surface.
I used a piece of flat wood to use to push down on the softened PVC to form the oval shape.
A small length of thin wood slid in front of the round tube of PVC pipe or something to prevent the PVC from rolling off the work area. I directed the heat up through the tube as seen in the following photo.
Photo 1:
Photo 2 shows I have placed another brick at the end of the PVC pipe. This traps the hot air inside the pipe and distributes the heat more evenly. This only takes a minute or two to soften the PVC tubing, keep moving the heat gun back and forth for a more even coverage of the heat. I have two settings on my heat gun and I used it on the highest setting.
Photo 2:
Photo 3 shows me using the piece of wood to press on pipe to check if the PVC is ready to shape. You can press the flat piece of wood directly downward to get the shape your after, I rolled it back and forth a little until I was satisfied with the oval shape.
Photo 3:
The finished pipe cooling.
Photo 4:
As you can see, it sure aint rocket science making an oval mould so anyone should be able to make one.
I'm thinking of using the mould even if it is only 50mm, maybe I can just cut it into 70mm lengths and leave it oval as an oval shaped 'bar'! ?? I'll keep you informed....
Update... I used the 50mm oval mould.
This small oval mould lined with a piece of laminating plastic worked like a charm. :-)
Photo 4 shows how I used clear tape over the opening of the base then used plain old packaging tape to strengthen the ends around the base of the mould. I rolled the laminating plastic into a tube then inserted it into the oval mould.
This packaging tape worked fine for me although not a lot of heat was generated in this narrow pipe it did cross my mind to make sure the tape is very secure for larger PVC pipes which I know to heat up. I would even take the precaution of placing the mould into a plastic bucket or similar just in cast there is a leak. This will save you making a mess if there is a spill and you will be able to salvage the soap if there is a spill. Tape is cheap so don't skimp on it. :-)
Photo 4
The next photo shows how I even overfilled the mould a little, the liner I used is quite firm and allowed the overfill, it went well.
Photo 5:
Now we see the bar of soap out of the mould and laying on top of the piece of laminating plastic I used to line it with. This soap slid out like a dream.
Photo 6:
Photo 7 shows the finished bars, this was only a tiny mould and I was testing the viability of making a mould using a heat gun, I really liked the shape of this small oval and the 2˝ bars it produced :-)
The two larger bars in the photo are 75mm or 3 inches long and 40mm or 1˝ inches thick. This bar fits in the palm of the hand comfortably so I think I will make myself another couple of small oval moulds now LOL
Photo 7: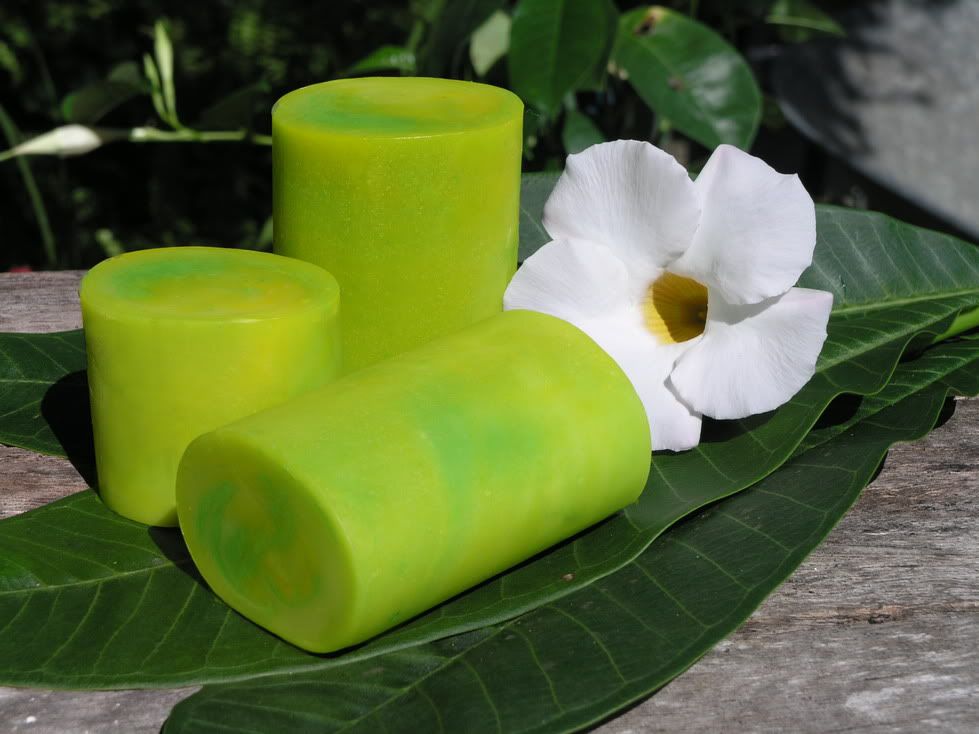 The FO is BrambleBerry's 'Mango Mango' I was after that yellow & green for a tropical look. My mistake was trying to do a 'swirl in the pot' . Well it did look great in the pot but as soon as I poured it down the tube it just blended together with very little discernable swirl but I'm happy with the overall testing. Smells delicious and lathers like a champion :-)
I get my BrambleBerry fragrant oils from Jude Birch at Aussie Soap Supplies here in Australia http://www.aussiesoapsupplies.com.au/
So if your looking for something different in 'bar shape' then consider making these smaller oval moulds with 50mm (2 inches) PVC and cutting them into 75mm (3 inch) lengths.
The copyright of the images displayed within this website pages are owned by Terry Nisbet.
You may not, download, manipulate, print, reproduce or share any of these digital images, in part of or in whole, unless authorized by written license issued by Terry Nisbet.