My First PVC Tube Soap
Here are the results of my first PVC downpipe soap. I used the same principle for dividing the two colours as I did in the tutorial for the Blue & Yellow swirled soap.
I have never had a problem with Brambleberry's Orchid FO accelerating but on this occasion I did, maybe it had something to do with the 33% water discount I used?
I placed a cardboard divider into the mould to separate the two sides then mixed the soap. The same way as I did with the Blue & Yellow Upright Log Mould, I fragranced the whole mix then split it. One I coloured a mulberry shade the other side I left natural. It began to thicken even before the ultramarine was added so I knew I would be moving fast now.
Even as I moved the lip of the bowl to the mould, it was too thick to pour. Using a large spoon I crammed it in then pushed in the next side. Huge cavities had formed so a few mighty bangs on the benchtop were required.
It heated up fast and was into its gel phase within 5 minutes. I left it overnight and cut it the next morning. There were some large holes in parts of it but I did manage to get about 8 good looking bars out of it.
BB's Orchid smells great and it lathers up a storm so most of it was salvageable. My next attempt will be without the water reduction .
On the plus side you can see that during the gel phase the two layers welded together nicely. I just wish I had time to give it a little swirl.
I made the glass dish too! I dabble in 'Slumped Glass' with my daughter.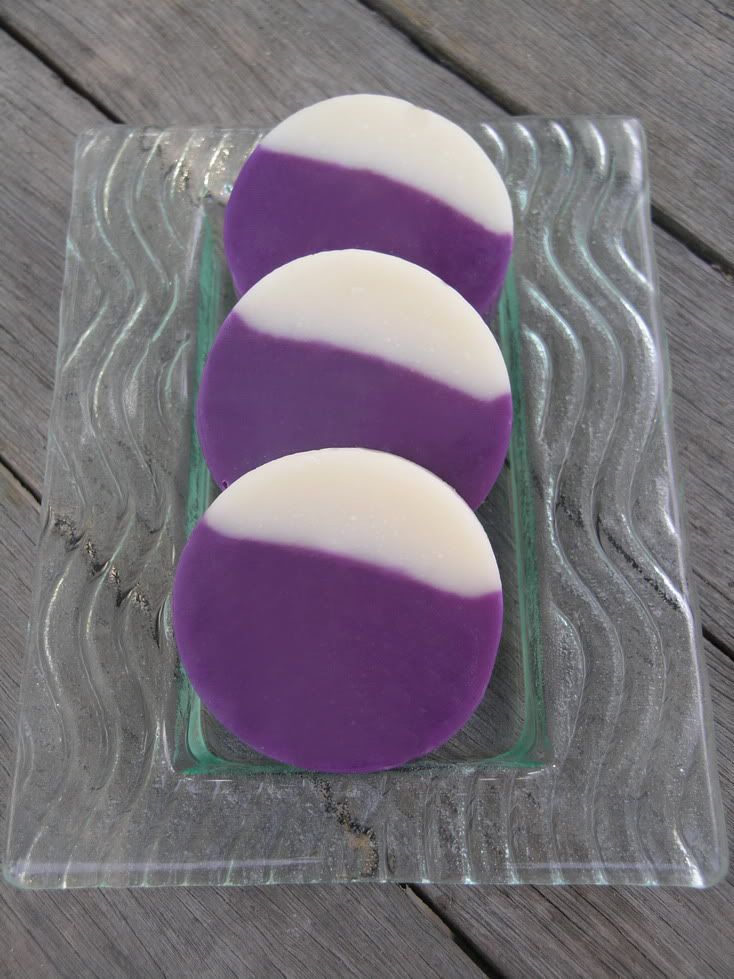 The copyright of the images displayed within this website pages are owned by Terry Nisbet.
You may not, download, manipulate, print, reproduce or share any of these digital images, in part of or in whole, unless authorized by written license issued by Terry Nisbet.