Tutorial 05
Nizzy's Cream Soap Experience
Assisted by Lisa WB
February 2006
My Soapmaker friend Lisa WB arrived on our doorstep right on time. So with a quick comparing notes we had researched on the internet, plus the fact of not having ever attempted making 'Cream Soap' before, we bravely marched into the unknown, well more of a slip and a stumble LOL.

Lisa WB is an accomplished soap maker here in Australia, she is also a friend. We have a hilarious time when we get together to make soap and two minds are always better than one, especially on this occasion.

No doubt after learning the basics of making cream soap we can adjust the recipe to whatever oils take our fancy, well that's the theory :-)

850g Tallow
567g Stearic
283g Lard
283g Virgin Coconut Oil

60.5g Caustic Soda
288g Potassium Hydroxide
3000g of Water
595g Vegetable Glycerine

We weighed the ingredients as per the recipe, placed the large stainless steel pot onto the hotplate and began to heat it up. Keeping the temperature low because the stainless steel is thin and not wanting to burn the mix.

After about 5 minutes of low heating I started to read those instructions and there at number 6 was a sentence about 'returning the soap pot to the LARGER pot.......Oh No! ...Should we be doing this in a double boiler?? More quick reading and sure enough ...number 7 in our list of instructions confirms it should be in a double boiler or a pot within a pot. Lucky the temperature was only on low.


We left it in the double boiler for about 3 hours then as it began to cool it was forming a thicker layer on the surface, not a skin but a thick layer and we just stirred now again then put the lid on. 4 hours later it is still warmish but thicker. I have had the pot sitting outside with the lid on to cool it faster, remember it's summer over here in Australia :-)

I have taken photos at the different stages and will post them here when it has finished cooling. I think we were successful

It's still a little warm and they say to let it sit for 24 hours but at this stage the mix resembles thick treacle, molasses. When lifted with the spoon it forms soft folds on the surface when dribbled back into the mix and after a few seconds the surface is smooth again. Is this correct? It will probably get slightly thicker overnight.???

It's not a 'cream' as like a moisturiser cream or whipped fresh cream.

It's lathering well already and can only improve with age. I didn't fragrance or colour the mix, its an semi opaque look about it. If you wanted it whiter Olivia suggested some Titanium Dioxide.

I like the idea of making a batch then add the fragrance to smaller portions of the soap on demand. There is hardly any odour to the plain mix. Would be good in a squeeze bottle.

Lisa and I have decided to follow up this ''creamed' process to see what else is around... any tips would be appreciated :-)
Here's Our Method & Photos
This is how we proceeded, the blind leading the blind and reading from two cream soap sources we managed to end up with the following.
We weighed out the ingredients then followed procedure to mix them together. When we added the caustic/water mix it went white instantly.
Lisa stick blended it and we watched it form a sort of a graininess.
Photo 1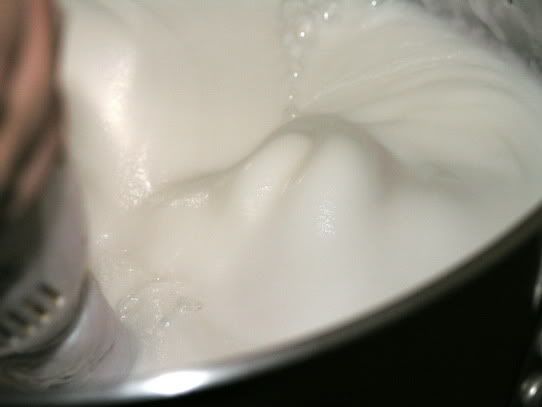 Whipped some more and it changed again, still looks grainy but don't worry this will soon smooth out as you whip more with the stick blender.
Photo 2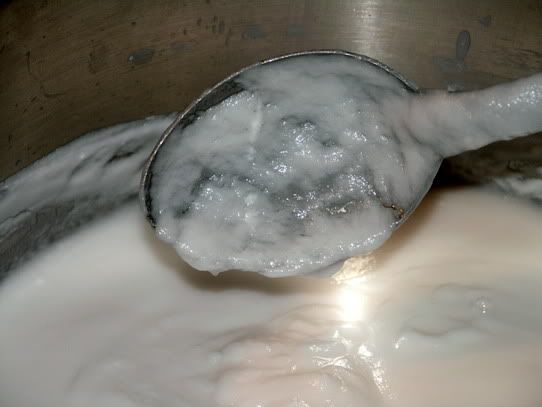 After about 20 minutes of heating in the double boiler the mix smoothed out and appeared even whiter, much smoother now.
Photo 3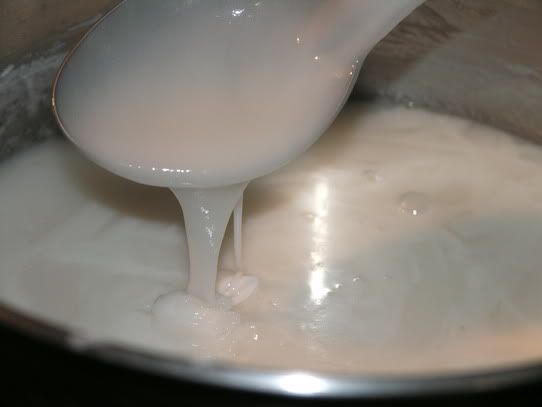 After 2 hours of cooking it formed thicker on the surface but still like warm honey consistency underneath. Eventually all of these soft lumps would be incorporated into the mix as it cooled further.
Photo 4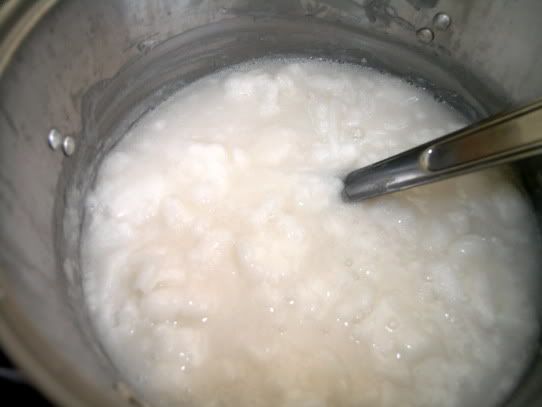 This is how it looked after cooling for about 30 minutes. It was getting thicker and more difficult to stir but this relaxes later on.
Photo5





The following morning it has thinned a little, sort of relaxed.
Photo 6
We decided that the mix must have needed more heating so we took a little out and placed it in the microwave till it heated. we took it out and it was instant, the mix was now thick. You can see the bowl on the left is how it looked the following morning then the bowl on the right is after heating in the microwave. So we decided we would place it back it the double boiler.

Photo 7
After another hour cooking you can see the vast difference.
Photo 8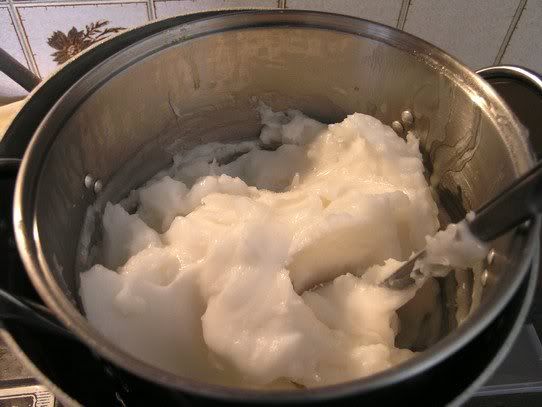 A close up of the thickened soap.
Photo 9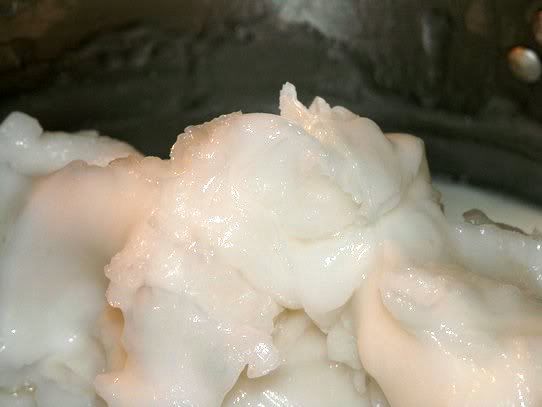 And finally a shot of my double boiler set up. This is the heating method I used.
Photo 10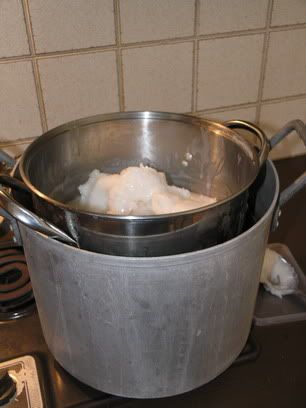 OK we now have this pot of real thick soap...What do we do now? Do we wait a week then whip it?
When I whip it I will add to this PDF file.
It lathers really well already so it can only get better with age, I'm guessing here :-)

I beat a portion of the soap and although it softened and even looked 'creamed' but after a couple of days it would settle and firm up again, not hard but firm enough so I could slice it with a blunt knife and it would hold the shape. Maybe it was still too soon after making it and I had not left it to 'rot' long enough.?

I did take another portion and used just water to soften it then added some FO and an ultramarine blue. I beat this to the consistency of toothpaste and filled a couple of 100ml 'Malibu Tubes' I know use this to shave with. Very neat & tidy in the bathroom, I just squeeze a little onto my wet shaving brush and it lathers well, very thick and fluffy with lots of glide for the razor blade to slide over the skin with. I'm very happy with my shave soap in a tube.

Update... June 2006

After reading a message on the forum I decided to check out my cream soap. I've had the bulk of my bowl of cream soap sitting under the bench for 4 months now. I had a piece of clear plastic stretched over the top to keep out the bugs. To tell you the honest truth I was 'over' the cream soap thing and had moved on back to Cold Process soap but still enjoying my shaving soap in the squeezy tubes.

I removed the plastic and prodded it with my finger, it felt different now, maybe something had happened while it has been sitting there out of sight? I took a blunt knife and it cut through very easily, like cutting through butter but when I stirred it a little with the knife it softened and creamed so I thought I would drag out the hand cake beater and give it a beating. It worked like a charm, the soap is now soft and creamy, like 'soft peak' meringue. This is really amazing coz I had given up on it but now I can see I simply needed to let it sit there for a couple of months. I don't know if this happens to anyone else but I'm writing it down here just in case anyone reading this has similar experience. I guess the old cliché of 'Never Give Up' is true in this case. :-)

Here are two photos of the mix after resting (rotting) for a few months:
In this photo you can see the firmness on the left hand side of the bowl and the partly creamed soap on the right hand side. There was far too much in this bowl for my cake beater to handle so I removed some into a small bowl and used a 'Stick Blender'
Photo 11: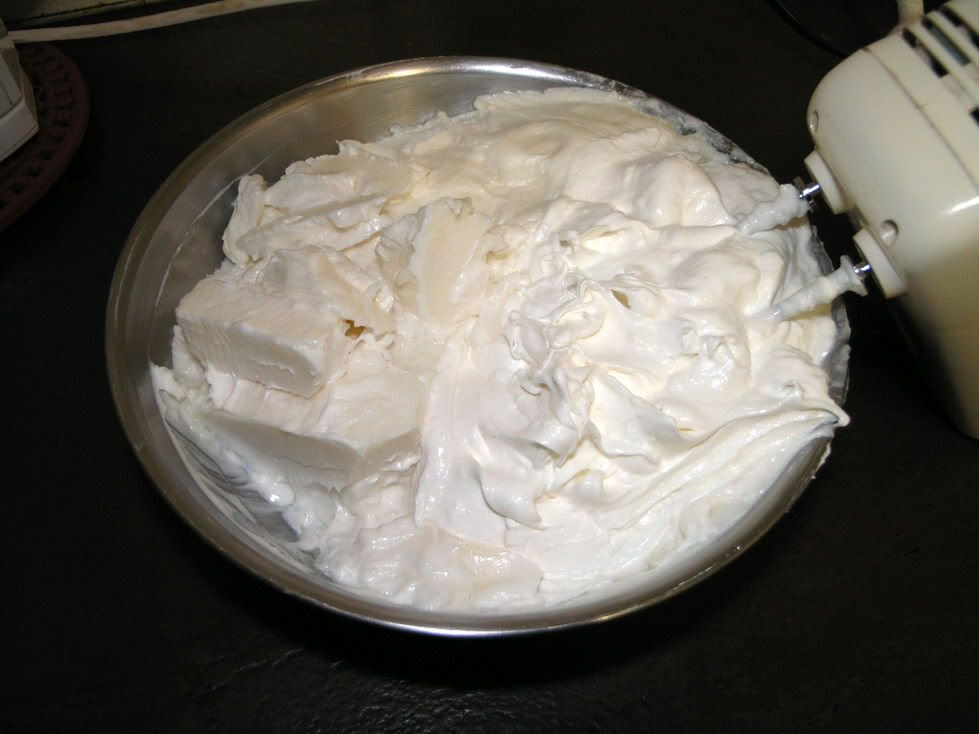 This has been stick blended just to smooth out the lumpy bits and is the consistency of soft meringue.
Photo 12:
Observations:
I find this soap does not lather without the use of a shaving brush. The brush develops the lather, once it has lathered and on your skin it holds really well.
I find it rinses off my skin much faster and easier after shaving.
It's perfect for after gardening or outside work, although it doesn't lather much when you use it like this, it doesn't effect its cleansing ability. I'm rethinking the whole thing now.
I am now happy to call this 'Cream' soap in the true sense of the word … I made it…halleluiah!
Update February 2007…
After the last update in June I had transferred the mix into a transparent plastic container with a lid and stored in one of my cupboards and promptly forgot about it. In December I found it sitting there and the colour had changed to an 'Off' white now but had taken on a pearlised sheen about it. It still had no colour or fragrance added to the batch, when I sniffed the mix it reminded me of the smell of the laundry when my grandmother used to boil the sheets and whites in the copper. The soap she used was just a plain and unfragranced, I still refer to it as that 'fresh' smell on washing day. This cream soap was made exactly a year ago and it has lasted the time well.
Today I stick blended again to soften it up and it looks very similar to the photo above, maybe a little a tad softer even. I took a small amount and added BrambleBerry's 'Island Kiss' fragrant oil and coloured it pale lemon. I'll some more later with some of our Australian essential oils just to give me a change of fragrance. You can purchase Brambleberry's FO's from Jude Birch at Aussie Soap Supplies here in Australia http://www.aussiesoapsupplies.com.au/ Jude is also another great ambassador to soapmakers here in Australia, a wealth of soaping knowledge which she shares freely both on the soap forums and privately.
This has now come to an end and I have been using this cream soap to shave with every day since I made it and I can vouch that I would never go back to plain old cold process soap or tinned shaving foam ever.
Here are a couple of photos of my final product.
Photo 13: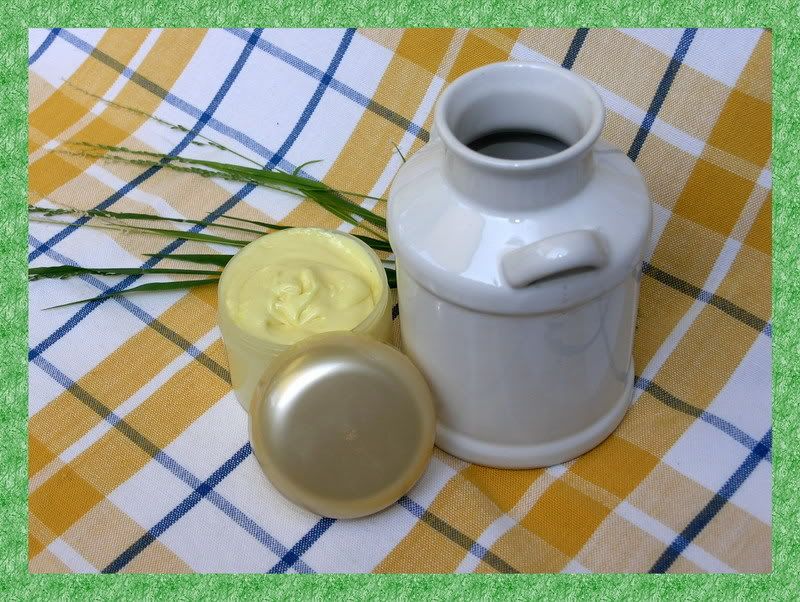 Photo 14: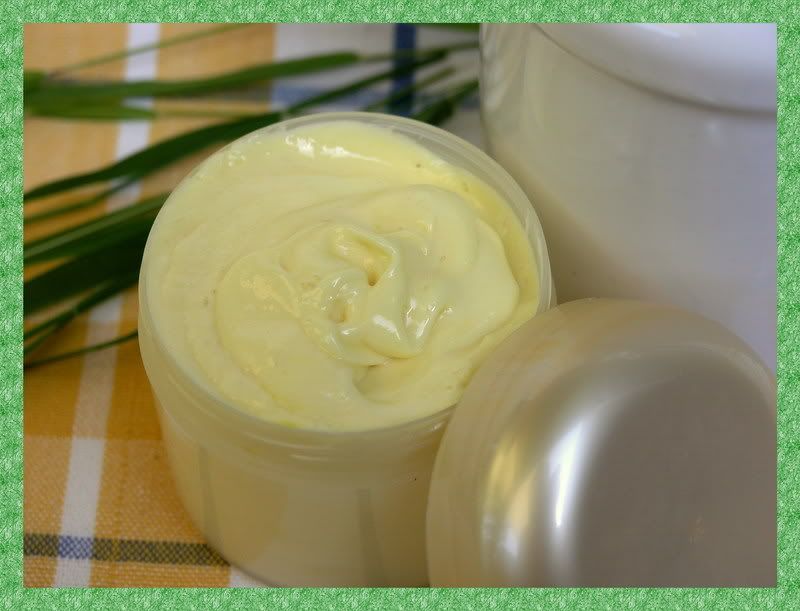 The copyright of the images displayed within this website pages are owned by Terry Nisbet.
You may not, download, manipulate, print, reproduce or share any of these digital images, in part of or in whole, unless authorized by written license issued by Terry Nisbet.